Increasing Tablet Production With Multi-Tip Tooling
Multi-tip punches are a financially savvy methods for expanding tablet yield without adding extra tablet presses. Multi-tip punches follow a comparable rule as a solitary tip instrument for the turning tablet press, however working strategies contrast.
We are associated with the making of multi-tip punches & dies that are utilized in the assembling of containers and tablets; even it is helpful for packing more than one tablet at each station. These Dies and Punches are accessible in both straightforward and complex plans. Multi-Tip Punches & Dies are a practical method to expand tablet capitulate without the requirement for extra tablet presses. Our team is precisely designing this machinery by using the extraordinary types of resources which keeps them non-breakable and efficient one.
The utilization of multi-tip punches pursues a comparable rule as a solitary tip apparatus for the turning rotary tablet press however there are working methods that must be comprehended for an effective Tabletting process. Along with this, it is also price very much reasonable for our reliable consumers.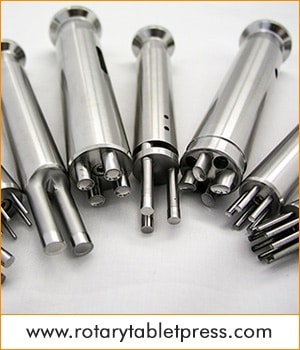 Multi-tip tools allow you to produce roughly – DOUBLE your normal output in the same amount of time for your current run! Depending upon the tablet size and the number of tips that can be used on one tool, you can increase your output significantly over your normal output.